Welcome to the HWGTA Open Event Area!
HWGTA Open Events are an excellent opportunity for prospective students and families to see for themselves the fantastic facilities and resources on offer. 
We recommend all potential applicants attend at least one event in order to gain a valuable insight into the requirements and process of enrolling onto an apprenticeship.
Please complete the registration form so that we can keep you up to date with the arrangements for your chosen events.
Face to face events
- the opportunity to tour our outstanding training centres, hear from current apprentices, meet employers looking to recruit, with our experienced team on hand to offer support and guidance.
Tuesday 22nd November 2022 - Worcester – 4pm - 6.30pm
Thursday 24th November 2022 - Hereford – 4pm - 6.30pm
Monday 13th February 2023 - Worcester – 4pm - 6.30pm
Wednesday 15th February 2023 - Hereford – 4pm - 6.30pm
Thursday 27th April 2023 – both centres open in Hereford & Worcester  – 4pm - 6.00pm (please note there will not be any employers present at this event)
Virtual Events
- the opportunity to understand more about our apprenticeship opportunities and ask questions, hosted online by our knowledgeable team.
Our virtual event resources are still available to see, please follow the links to the Engineering and Commerce areas below.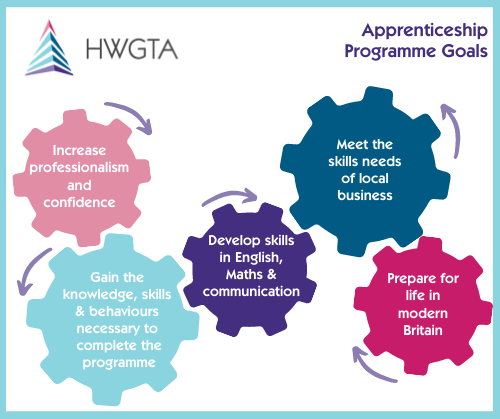 Introduction by HWGTA Chief Executive Nigel Morgan
Introduction by Commerce Operations Manager Veronica Smith
Introduction by Engineering Operations Manager Alan Jones