Coronavirus update
In accordance with the latest Government guidance, HWGTA are beginning a phased re-opening of our training centres from Monday 15th June.  The safety of learners, staff and visitors is our overriding priority and re-opening follows extensive risk assessment and the implementation of a number of control measures, to ensure we provide a safe working and learning environment.
As of 15th June the following apprentices will be returning to some training in our centres:
1st year engineering apprentices

AAT level 2 apprentices
All other training will continue to be delivered via remote methods.
The HWGTA team have adapted our training and monitoring methods and are still providing training to over 95% of our apprentices; therefore we still have over 500 people in learning. 
HWGTA staff are contactable through the normal methods and landline calls will be redirected, to ensure customers and learners are able to speak to our team even if they are working from home.
The team at HWGTA are fully focused and united in their determination to work together, with both learners and employers, to ensure that during this unprecedented national crisis, we continue to support achievement, learning and success. 
We encourage applications from anyone interested in an apprenticeship.  We are carrying out initial assessments and interviews using the latest technology available to ensure we are able to place apprentices with employers as soon as opportunities arrive.  We are also working towards beginning our next intake of engineering and accountancy programmes in September as normal and would encourage apprentices and employers to contact us to discuss how we can support you in the coming months.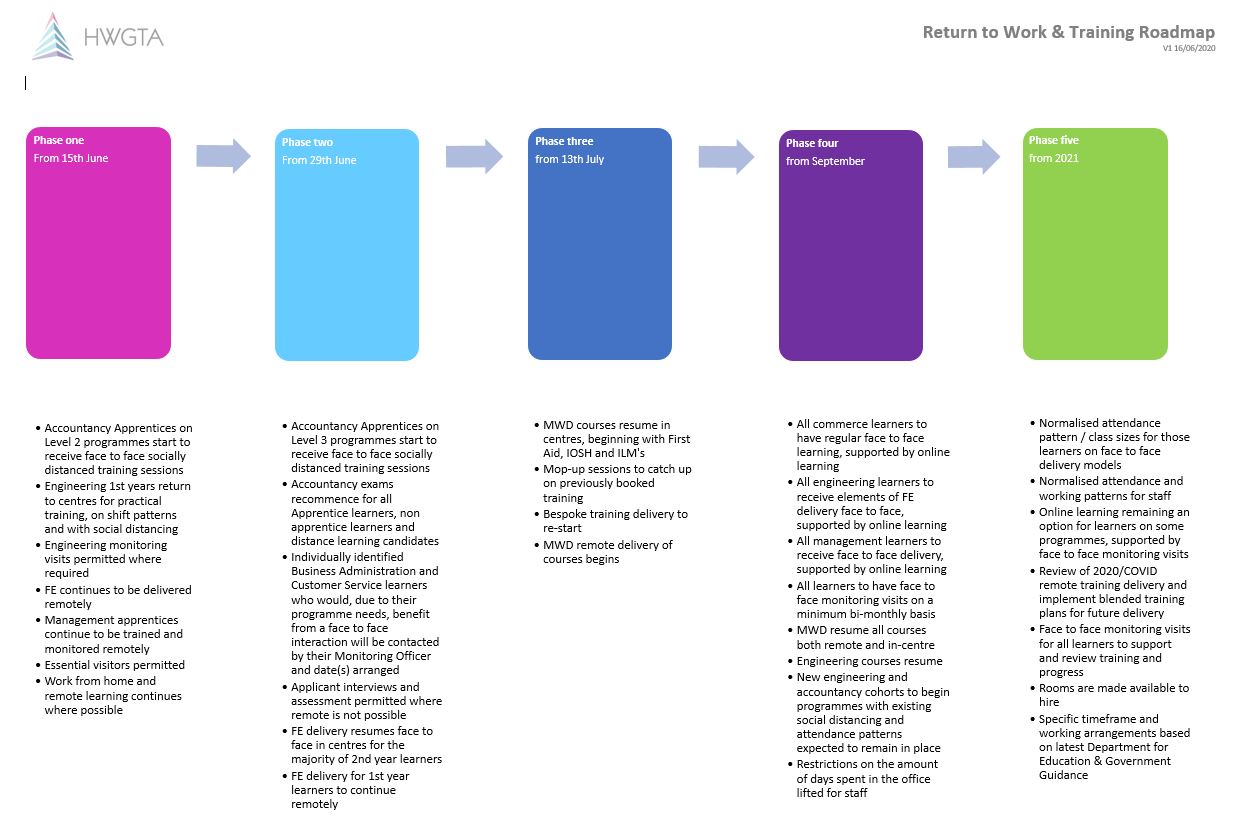 What does this mean if I am an Apprentice?
If you fall into a category that is resuming face-to-face training you will be contacted with a date to return to centre, providing you are able to do so.

Do not return to the centres until you have been contacted by us.

We will begin phasing in physical monitoring visits where required, either at your employer premises or one of our centres.  Your usual HWGTA contact will keep you informed of any change of arrangements.

Remote training will continue wherever it is possible to do so.  

It is essential that you keep on learning

 and HWGTA staff will do their utmost to support this.  We do not want this change in training circumstance, to impact your progress and future achievement.  Therefore, you will need to be self-disciplined in keeping on top of the work required 

Even where you have been furloughed by your employer, you will still continue with your apprenticeship learning

Please check the HWGTA website regularly for any updates

Please contact your normal Monitoring/Training Officer if you have any queries about your apprenticeship
What does this mean if I am an Apprentice Employer?
If your apprentice is due to return to the training centre you will receive written correspondence from us containing information on the planned arrangements.

A copy of our risk assessment is available on request.

Apprentices need to continue learning, even where they are not attending training at HWGTA sites.

Furloughed apprentices can continue their apprenticeship learning and HWGTA will work with all furloughed apprentices, in order to achieve this.  This is in line with Government rules for furlough.   

As per Apprentice funding rules, learners must be allowed 20% of their working week to complete "off the job" training.  HWGTA will provide apprentices with qualification materials, will be carrying out reviews remotely and will also start online training sessions where appropriate

Please talk to your HWGTA contact, through the normal channels if you have any queries or concerns

New apprentice recruitment will continue and we would urge employers to carry on with original plans, wherever economically possible and we can explore measures, such as postponing start dates, to ease any concerns you may have.
What does this mean if I am booked on a course with HWGTA?
We are planning for the phased return of our courses and intend to begin delivery in July.

Most of HWGTA's training courses are able to be delivered online/remotely. This includes all ILM Management and day courses and significant elements of our Health and Safety and First Aid courses.

The HSE has announced a 

3-month

 

extension to the validity

 for all First Aid at Work and Emergency First Aid at Work certificates coming up for renewal on or after 16th March during the current Covid-19 crisis. 
Please contact info@hwgta.org, to book or re-book your place on our courses, or if your company would like training courses delivered bespoke to your organisation.
What does this mean if I have applied for an apprenticeship this year?
New apprenticeship recruitment continues to go ahead and we are processing applications and forwarding them to employers

We may experience a delay from employers in recruitment decisions, whilst they deal with the impact of Covid-19

If you have any concerns or queries about your application, please contact:
Herefordshire Engineering 
Sue Tong  stong@hwgta.org 01432 377002
Herefordshire Commerce (Accountancy, Business Administration and Customer Service)
Hayley Grismond Hayley.grismond@hwgta.org 01432 377010
Worcestershire  Engineering 
Nicky Scott nicky.scott@hwgta.org 01905 330720
Worcestershire Commerce (Accountancy, Business Administration and Customer Service)
Marianne Thompson Marianne.Thompson@hwgta.org 01905 330721
What does this mean if I have hired a room at HGWTA?
Room hire commitments are now cancelled – HWGTA staff will contact any affected individuals.  
If you have any concerns about this matter, please do not hesitate to talk to one of our team.
Last updated 22/06/20 16.37